Laminating Pouches
Product Code: LAM
| | |
| --- | --- |
| larger photo | |
Prices Table
Quantity
500
1000
2500
5000
Size
Credit Card 2 1/8 x 3 3/8" (54 x 86mm)
+ 0.12
+ 0.10
+ 0.09
+ 0.08
Data/IBM 2 21/64 x 3 1/4" (59 x 82.5mm)
+ 0.12
+ 0.10
+ 0.09
+ 0.08
Business Card 2 1/4 x 3 3/4" (57 x 95mm)
+ 0.12
+ 0.10
+ 0.09
+ 0.08
Government/Military 2 5/8 x 3 7/8" (66.5 x 98.5mm)
+ 0.15
+ 0.13
+ 0.11
+ 0.10
Luggage Tag (Slotted) 2 1/2 x 4 3/16" (63.5 x 106.5mm)
+ 0.18
+ 0.15
+ 0.14
+ 0.12
Fishing/Hunting 2 15/16 x 4 1/8" (74.5 x 105mm)
+ 0.18
+ 0.15
+ 0.14
+ 0.12
Jumbo 3 3/16 x 4 3/8" (81 x 111mm)
+ 0.20
+ 0.18
+ 0.16
+ 0.14
Driver's License 2 3/8 x 3 5/8" (60.5 x 92mm)
+ 0.12
+ 0.10
+ 0.09
+ 0.08
Keycard 2 1/2 x 3 7/8" (63.5 x 98.5mm)
+ 0.18
+ 0.15
+ 0.14
+ 0.12
Credential 2 3/4 x 5 1/16" (70 x 128.5mm) *5 mil
+ 0.12
+ 0.10
+ 0.09
+ 0.08
Memorial Card 2 7/8 x 4 5/8" (73 x 117.5mm)
+ 0.20
+ 0.18
+ 0.16
+ 0.14
Index/File Card 3 1/2 x 5 1/2" (89 x 139mm)
+ 0.20
+ 0.18
+ 0.16
+ 0.14
Photo 6 x 9" (152.5 x 228.5mm)
+ 0.35
+ 0.33
+ 0.30
+ 0.29
Letter 9 x 11 1/2" (228.5 x 292mm)
+ 0.78
+ 0.73
+ 0.66
+ 0.63
Legal 9 x 14 1/2" (228.5 x 368mm)
+ 0.89
+ 0.84
+ 0.76
+ 0.72
Menu 12 x 18" (305 x 457mm) *5 mil
+ 1.06
+ 0.99
+ 0.90
+ 0.85
Product Information
Kleer-LamTM Laminates in several sizes to fit your particular insert.
Customization
We can pre-punch your laminates for your attachment.  Just choose from the following slot styles.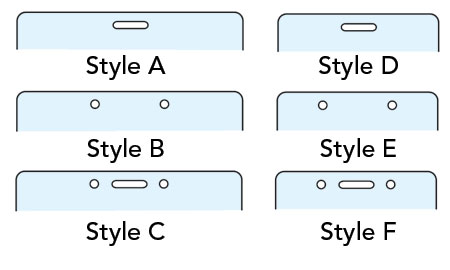 Production Time
Plain pouches usually ship within 24 hours.
Punched pouches usually ship within 3-4 days.
Packaging
Laminate Pouches are packaged 500 to a box.
Prices
Prices shown above, however, please call or e-mail your order.
Related Product Categories
Related Products