Who Are We And Why Do We Do These Things?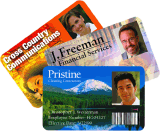 The Laser's Edge, originally founded in Arlington, Virginia  in 1985, began by designing programs for laser printers, including a program to print name badges.  Using this program, we started a badge production service in the Washington D.C. area.  As laser printers became more affordable, we packaged and sold our internally tested program - BadgePro - to our Washington clients who were familiar with our work.
From 1987-1995, we enjoyed a modest growth in sales, primarily through word-of-mouth about our user-friendly software.  We're very conscientious about quality, accuracy, completeness and timeliness; and our clients were happy to pass our name around.  Soon, we began to sell meeting supplies that we'd developed and tested.  We also expanded our printing services nationwide. 
In 1995 we first converted our main programs, BadgePro, Omar the TentMaker and the RosterMaker, into the BadgePRO Plus Software Suite. The software is provided on an annual subscription basis to maintain software consistency without charges for support. 
Of course, BadgePRO Plus is always changing, both to add capabilities that are important to our clients and to maintain compatibility with Windows, office software and advancing technologies.  Likewise, The Laser's Edge is constantly expanding our product lines and custom services to meet our client's needs.  We've increased our services to include a much wider range of quality meeting, marketing and promotional items, plain or customized for your organization or event. 
Almost any product we carry can carry your brand; and our prices will help keep costs within reach.