We print thousands of badges and table tents for clients all across the U.S. As a matter of fact, BadgePRO was developed primarily to handle our in-house printing service.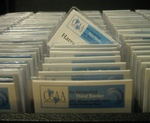 Ask any of our clients and they'll tell you the same thing... we proof our work, develop great badge designs, and we deliver on time (as promised).
Most of our clients send us their data files via email, but we offer a key-in service as well. We can convert or extract the names from virtually any file format, document, spreadsheet, or database table. 
You can get an idea of your project costs from the grids below, or just send us your specifications and we'll send you an estimate for your specific job.
Standard Badge Printing Rates
Quantity
1-199
200-499
500-999
1000-1499
1500-2500
2500+
Standard B&W Badge
.99
.65
.49
.43
.39
.35
+ Color Graphic/Text
+ .26
+ .25
+ .24
+ .23
+ Invoice
+ .35
+ .30
+ .25
+ Full Size Ticket
+ .35
+ .30
+ .25
+ Mini-Tickets (1-5)
+ .80 (Price includes ticket design service)
+ Mini-Tickets (6-12)
+ 1.70 (Price includes ticket design service)
Tent Printing Rates
Tabloid

Legal

Standard

Tri-Fold

Portrait

Dual

Portrait

Table-
Tents

Mini-
Tents

Place-
Cards

Each Tent

3.50

2.50

1.50

1.50

1.50

1.00

.75

.75

.75

+ Color

1.00

1.00

.75

.75

.75

.50

.25

.25

.25

 All in-house production includes:
Proof sent in advance (page or list available) at no charge
Badge/Tent paper included (Badge Stock has several color choices available.)
Pre-printing of Badge Stock w/color logo available
Completed Badge Pages are numbered
Choice of Fonts & several other Layout Options available
Optional Key In of Badges & Tents starts at $.50 each
Optional Logo Preparation starts at $25 (one time fee)
Rates do not include Badge or Tent Holders
Heavy coverage graphics may incur additional charges